Logline
A high school football star must restore his reputation through Biblical counseling once an inappropriate picture of his girlfriend spreads onto the internet.
Synopsis
Send addresses the problem of impulsive teens and instant connectivity.
Budding musician Rachel Dugard (16) sends an inappropriate picture of herself to her boyfriend, high school quarterback Jae Stroud (18).  Jae is understandably ove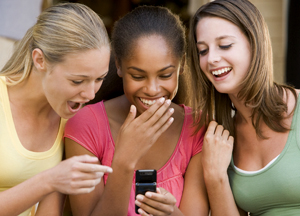 rwhelmed.   And life is great.
But soon, the school's popular social media website reports that Rachel is breaking up with Jae.   Jae's friends, Michael and second-string QB Kevin, convince Jae that being the loser who gets dumped is no way to start senior year.  Not for a peer-directed jock.   Jae texts his break up to Rachel, throwing them both into a tailspin, since he discovers Rachel had no intention of breaking up.
Michel throws Jae a party to cheer him up, but despite hitting it off with a new cheerleader, Crystal (16), Jae tells Michael he's going to apologize and beg Rachel's forgiveness.  But before the party ends, someone forwards Rachel's photo from Jae's phone…
By morning, the photo is everywhere.   Jae tries to delete it from his friends' phones, but can't.  He tries to make up with Rachel, but she snubs him.
Then her father Dave finds out Rachel's photo hit a porn site!
Jae is arrested for distributing child pornography.  His parents, Charlie and Liz Stroud try to settle it simply: Jae must apologize to Rachel in person.   But Jae's struggle with appearances causes even this to backfire, making Dave even more determined to have Jae prosecuted and registered as a sex offender.
Jae's lawyer recommends counseling to offset the charges before the arraignment.  So Jae ends up in the office of Pascal, a Biblical counselor with a unique method for delving into his patient's heart issues.   Jae goes along, but he also hatches a plan to clear himself by finding the one who texted Rachel's photo, and his best guess is his porn-addicted friend Kevin.
After Pascal and Jae discuss sexting, pornography, and relationships, Jae tries to force Kevin to confess, resulting in a fight that makes Jae seem all the more guilty.   The fight video hits the internet and Jae returns to Pascal bloodied.
Love-sick and unsupported, Rachel goes to Pascal but her father Dave, disgusted by his daughter's passions, rejects her counseling.  Rachel takes up the Bible on her own to find some peace.
Meanwhile Pascal helps Jae's parents find insight into Jae's overvaluing social opinion, but Charlie presses Jae to apologize to Kevin.  Before Jae goes, Pascal teaches Jae the way to reconcile as Jesus did, leading him through the sinner's prayer.
Jae's apology starts badly, and he loses his counseling homework, but he wins Kevin back.   Later Crystal returns the notebook to Jae's window at night, playing the sex kitten as Jae described in the notebook.  She then tells him about a party where Jae can resolve his issues with Rachel once and for all.  Crystal will set everything up.
At the party, Crystal lures Jae upstairs to seduce him, hoping to shame Rachel and win Jae for herself.   But Jae refuses, tearing himself away as Rachel enters.  Mortified, Rachel flees.   Crystal demands Jae let her go, accidentally revealing that she sent the photo out.
Fearing Rachel might commit suicide, Jae rushes after Rachel, and jilted Crystal announces that Jae is stalking Rachel.
Jae follows Rachel to the high school, followed by Dave, all his friends from the party, the police and news crews.   But Jae, with a clear moral compass and clever use of the speaker system, finds Rachel under the football bleachers, opens his heart to her and not only wins her back, but also convinces everyone he's innocent of the scandal.
The story ends with Jae and Rachel restored with clear boundaries, and Crystal in the counseling office.
Help Bren & 4L Films Bring this to Market!
We believe this story is both relevant and entertaining.  It has the potential to reach a vast audience and start many meaningful conversations about social media, modern morality and teen relationships.
We're currently seeking funding for our production in Atlanta.
If this sounds like a project for you, or if you have comments or questions, contact me.